Rennie Gabriel's Wealth On Any Income Course
An 8 module program you can listen to based on your schedule
Did you go into your business or profession to become wealthy?
Are you struggling to save money because of near-constant "unexpected expenses" or a commission income that has peaks and valleys?
Do you want to learn how to invest so that work becomes a choice rather than a requirement?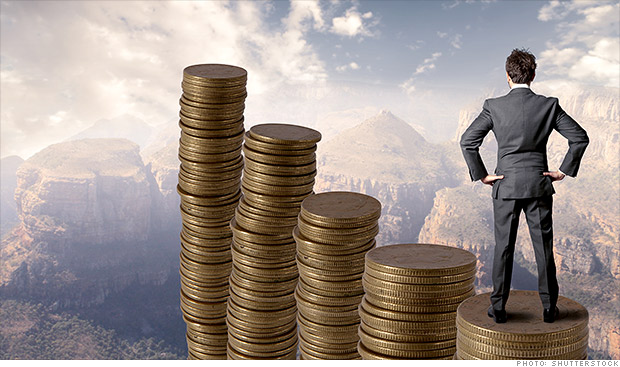 It doesn't seem like that long ago that I was near the end of my financial rope.  Despite being a Certified Financial Planner, I found myself on the verge of bankruptcy and resorting to recycling soda cans in order to feed my family.  I felt embarrassed and hopeless that despite my years of hard work and education, and my "good job," there just wasn't enough money to pay the bills.  I intuitively understood that I could become a wealthy man, but there seemed to be an invisible wall between me and the wealthy life I wanted to live.  Now I understand that the invisible wall was that I hadn't learned the truth about money.
The Truth Is:
Regardless of your income I promise that you can create a level of wealth where work is a choice instead of a requirement.
If you want to travel the world, you can afford that.
If you want to buy a house for your children, you can afford that.
If you want to set up a charitable foundation, you can afford that.
If you want to spend your days sitting at home in a torn T-shirt and watching daytime TV with a beer in your hand, you can do that too!
What you do with your wealth will be up to you.



Hi, I'm Rennie Gabriel



And I have gone from financial 'rock bottom' to multi-millionaire in 10 short years. I now enjoy a passive income of over $25,000 per month and am truly living life on my own terms. I have taught countless others how to achieve the level of wealth they desire, and I can absolutely help you too!
100% of the profits from this course will be donated to a program that rescues dogs and trains them to be service animals for war veterans that suffer PTSD or TBI damage. With the help of these rescue dogs, veterans can go on to lead a life that is as normal as possible. For more information go to http://www.SheltertoSoldier.org.
The Problem With My Promise...
The only problem with my promise is that most of us are taught how to earn a living but not what to do with the money. We are educated to get a job, and not save, invest or build a business. This creates stress and fear about the future.
We are not taught what to do with the money we earn so that the money can work for us. Instead we spend our life working just to pay the bills, regardless of how much we earn. The sad truth is that despite years of hard work, most Americans find themselves a whole lot closer to "broke" than wealthy by age 65.  Living the way we've been conditioned simply cannot lead to the "American Dream." In fact at age 65,
The median household income is $33,118*
The median house mortgage is $70,000*
30% of families still have to make installment payments *
32% of families still carry credit card balances from month to month*
The median net worth of the typical American household in 2013 was only $56,335, AND that includes the value of their home.
*Source material available upon request With these numbers retirement is totally unrealistic. And when I talk about financial independence, it's not only a dream, it's a cruel joke. This is why I have created the 8 Week Wealth On Any Income Course. We need to stop listening to other people who have bought into a system that is designed to have you work the rest of your life for credit issuers and banks. It doesn't have to be that way, and the secret system I'll share with you in the course will show you how to create financial independence, just like I did.
I know this material works if you work it. And if you follow the instructions and you have not saved all your money you paid for the course, you will receive back every penny you paid. This is NOT a satisfaction guarantee, this is a RESULTS guarantee.
I love Wealth On Any Income.  Everyone, and that includes you, can become wealthy.

Mark Victor Hansen

Co-Creator, #1 New York Times Best-Selling 'Chicken Soup for the Soul' Series
This is perhaps the most important subject you will ever deal with, and Wealth on Any Income gives you a step-by-step road map to follow.  You can achieve all of your dreams of financial freedom by putting these ideas to work.

Brian Tracy

America's #1 Training Authority
Do Any Of These Sound Like You?
As a business owner, the money comes in and the money goes out, and there is little or nothing left for you.
Your earnings are okay, but it feels like you're just living paycheck to paycheck.
You earn a great living, like a few hundred thousand dollars per year, but have little to show for it.
It feels like there is a constant struggle with money. You know you have the smarts to do better, but it's just not happening.
You like your career, but at some point you want to be able to stop working if you want to. There are other projects you want to pursue.
When an emergency expense shows up, it throws off your plans, or worse, it becomes a disaster.
Just like 90% of the population, you have not been taught how to handle money effectively that will allow you to save, invest, and ultimately choose to work instead of have to work.
You believe that becoming debt free will create financial independence, but you learned that is not true.
You're heard that people can create financial independence in 10 years, but feel that's just a bunch of bunk.
Relax, You're In The Right Place!
My journey to wealth began in somewhat atypical "rags to riches" fashion.
Blowing through $17,000 I inherited when my mom died in 1981, and adding on another $18,000 of debt when my art gallery business failed in 1982 along with the economy, it was a stressful time for me. A time of self-doubt, fear and feeling alone that there was no one I could turn to for help.
Even my own wife (at the time) refused to help me. She said, "You got us into this mess and you'll have to get us out of it."  The pressure was almost crushing.
I was falling behind on our mortgage payments. We needed food so I went to the garage to get empty soda bottles, and back then you could take them to the market and get cash, and that's what I had to do to get some food for my wife and two children.
In my stress I couldn't sleep, and in my waking hours all I would do is ask myself, "What can I do to get out of this mess so I don't have to work for a living?"
That led me to study other things, not more financial planning concepts, not stocks, bonds, or mutual funds, but how to become wealthy. I thought that if I just earned more money, then I could become wealthy. I was wrong. More money does not solve the problem of mismanagement.
I could not become wealthy until I learned how the wealthy think, and used the tools the wealthy use to create and keep their wealth. I got my hands on all sorts of books from Think and Grow Rich and The Richest Man in Babylon to books on goal setting, budgeting, and more.
It didn't happen overnight, but as I learned to think, behave, and invest like the wealthy do, my financial situation changed for the better.   I was able to "retire" at age 39 with a passive income of $60,000 per year.  And now, I earn a passive income of over $25,000 per month without ever having to go to work!
I can teach you to do it too!  I have a system that I use to create my passive income, and it requires no special talents or abilities; just a willingness to learn and follow directions.  I have helped countless others to do what I've done by following my system, and I know that if you are willing, I can help you too.
This is why I have created the 8 week Wealth on Any Income course! Register today!
"With Rennie's coaching, I have been able set up an investment program, putting away 15% of my take home salary and 2% of our company's monthly gross receipts...this has been effortless."

BT Construction ,

Half moon Bay, CA
"Based on your advice, we were able to eliminate $30,000 of short-term debt in two years, with no increase in income!"

D. B. ESQ,

Northridge, CA
Through years of self-study and trial and error, I have created a system that, when followed, simply cannot fail to create wealth... on any income!  I use this system myself, and continue to increase my passive income, and I have helped countless others to use it too.  It is this system that I teach in the 8 week Wealth on Any Income course.
We are all capable of creating wealth.  We need only learn the truth about money and investing that isn't taught in school.
So, I've made it my mission to teach this important information.
Introducing...
Rennie Gabriel's Wealth On Any Income Course
An 8 module program you can listen to based on your schedule

Module 1
How to eliminate the unconscious beliefs that prevent the accumulation of wealth.
The difference between thinking from the big picture versus the details.
Focus on the one that opens you up to creating wealth.
Knowing the three areas from which we all operate, and two are useless, but we use them 95% of the time.
How to overcome the feelings that stop you from taking actions that get in the way of your financial success.
Turn familiar information into action steps that can turn your life around.

Module 2
Measure your relationship to either poverty or prosperity thinking.
Delete the limiting belief systems about money that you may have received as a child.
Complete an exercise for couples to understand each other's money values.
Write your 5 year financial goal, from the future.
Use the 6 areas of influence to build a support structure that guarantees your success.

Module 3
Eliminate consumer debt easily and effortlessly.
See where you might spend money unconsciously, and it could be thousands of dollars.
Use the two most powerful financial tools used by the wealthy.
Distinguish between personal-use assets and investable assets (Only one creates wealth).

Module 4
Use a tool that creates financial and spending information in 5 to 10 seconds.
Grow your clients and income using a powerful referral script.
Attract more of the clients/customers that you want to work with.

Module 5
Learn what the wealthy have been doing for 5000 years that anyone can use.
Why you have to save and invest NOW regardless of any debt you might have.
How to never use a credit card again for an emergency expense.

Module 6
What to do with your financial freedom funds.
Real estate, trust deed, and tax lien investing.
Stocks, bonds and mutual funds.
Peer-to-peer lending

Module 7
Finding and qualifying an apartment building investment.
Understanding NOI, Cap Rate, GRM, and Cash on Cash.
Working with brokers, advertising, showings, qualifying applicants.
The important profit items in a lease agreement.
Building your team- Manage real estate or hire management.
Emerging markets – the real growth area.

Module 8
Finding a Financial Planner that's right for YOU.
The Rule of 72.
The 4% withdrawal rule.
Tax Advantaged Investing.
Qualified Retirement Plans.
Annuities – the good and bad.
Tax Favored Life Insurance Products.
Reducing Investment Volatility.
Your personal investment action structure
BONUS: Your spouse can also listen to the course for free

That's right!  it's a 2-fer for married couples!  Rennie knows that your success depends upon both parties in the marriage speaking the same financial language, so he is gifting a seat in his course to your husband or wife!

Valued at $997

BONUS: Free updated digital copy of Rennie Gabriel's best-selling book

If you don't already own a copy of Rennie Gabriel's Wealth on Any Income: 12 steps to freedom, we will provide an updated digital download for you.  Free of charge!

Valued at $25

1 hour Personal Consultation

To reward those who are truly serious about creating a lifestyle where work is a choice rather than an obligation, Rennie offers a 60 minute personal financial coaching session upon completion of the course.

Valued at $400
That's Over $1,300 in Total ValueFor Just $997
Using Rennie's system, I have moved from $15,000 in debt, to $52,000 in the bank, in one year!

L.S.

Santa Monica, CA
The concepts and approach of Wealth On Any Income are ideal for those who have difficulty facing financial concerns through traditional approaches.  I recommend it to my clients.

James W. Gottfurcht, PhD.

Author of 'Financial Fitness,' Psychologist, and consultant to the financial service industry and MasterCard International
Frequently Asked Questions
Q.

Who will benefit from the Wealth on Any Income Course?

A.Anyone who has not been taught in school or by their parents how to handle money effectively and feels they could do better, but just don't know what to do.

Q.

Is there anyone for whom this program is not a good fit?

A.People who are looking for a get rich quick scheme will not find what they are looking for.  The Wealth On Any Income course is not a "scheme".  It is a step-by-step plan, and requires discipline and action.

Q.

How long are each of the modules?

A.Each module is about 60 minutes, and none are longer than 90 minutes.

Q.

What if I can't afford the $997?

A.This is evidence of just how necessary the Wealth on Any Income course is for you!